Cinnaminson Township, New Jersey
Information From Wikipedia, the free encyclopedia
Cinnaminson Township is a Township in Burlington County, New Jersey, United States. Cinnaminson Township borders the Delaware River, and is an eastern suburb of Philadelphia. As of the 2010 United States Census, the township population was 15,569.[4] Cinnaminson was incorporated as a township by an act of the New Jersey Legislature on March 15, 1860, from portions of Chester Township (now known as Maple Shade Township and having no connection to theMorris County community that still bears that name). Portions of the township were taken to form Delran Township (February 12, 1880), Riverton (December 18, 1893) and Palmyra (April 19, 1894).[8]
Geography
According to the United States Census Bureau, the township has a total area of 8.1 square miles (21 km2), of which, 7.6 square miles (20 km2) of it is land and 0.5 square miles (1.3 km2) of it (5.71%) is water.
Cinnaminson Township borders:
---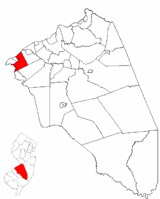 Demographics
As of the census[5] of 2000, there were 14,595 people, 5,057 households, and 4,141 families residing in the township. The population density was 1,920.4 people per square mile (741.5/km²). There were 5,147 housing units at an average density of 677.3 per square mile (261.5/km²). The racial makeup of the township was 91.36% White, 5.08% African American, 0.16% Native American, 1.88% Asian, 0.01% Pacific Islander, 0.49% from other races, and 1.01% from two or more races. Hispanic or Latino of any race were 1.53% of the population.[12]
There were 5,057 households out of which 33.2% had children under the age of 18 living with them, 70.5% were married couples living together, 8.6% had a female householder with no husband present, and 18.1% were non-families. 15.5% of all households were made up of individuals and 9.5% had someone living alone who was 65 years of age or older. The average household size was 2.85 and the average family size was 3.18.[12]
In the township the population was spread out with 24.5% under the age of 18, 5.9% from 18 to 24, 24.9% from 25 to 44, 25.5% from 45 to 64, and 19.1% who were 65 years of age or older. The median age was 42 years. For every 100 females there were 95.3 males. For every 100 females age 18 and over, there were 91.7 males.[12]
The median income for a household in the township was $68,474, and the median income for a family was $75,920. Males had a median income of $57,122 versus $41,286 for females. The per capita income for the township was $29,863. About 1.4% of families and 2.4% of the population were below the poverty line, including 2.0% of those under age 18 and 3.5% of those age 65 or over.[12]
---
Government
Local government
Cinnaminson Township is governed under the Township form of government with a five-member Township Committee. The Township Committee is elected directly by the voters in partisan elections to serve three-year terms of office on a staggered basis, with one or two seats coming up for election each year.[1] At an annual reorganization meeting, the Township Committee selects one of its members to serve as Mayor and another as Deputy Mayor.
As of 2011, members of the Cinnaminson Township Committee are Mayor Kathleen M. Fitzpatrick, Deputy Mayor Donald Brauckmann, Anthony V. Minniti, John Rooney and William "Ben" Young.[2]
Federal, state and county representation
Cinnaminson Township is in the 3rd Congressional district and is part of New Jersey's 7th state legislative district.[13] The legislative district was kept unchanged by the New Jersey Apportionment Commissionbased on the results of the 2010 Census.[4]
New Jersey's Third Congressional District is represented by Jon Runyan (R, Mount Laurel Township). New Jersey is represented in the United States Senate by Frank Lautenberg (D, Cliffside Park) and Bob Menendez (D, Hoboken).
The 7th district of the New Jersey Legislature is represented in the State Senate by Diane Allen (R, Edgewater Park Township) and in the General Assembly by Herb Conaway (D, Delanco Township) and Troy Singleton (D, Palmyra).[14] The Governor of New Jersey is Chris Christie (R, Mendham).[15] The Lieutenant Governor of New Jersey is Kim Guadagno (R, Monmouth Beach).[16]
Burlington County is governed by a Board of Chosen Freeholders, whose five members are elected at-large to three-year terms of office on a staggered basis, with one or two seats coming up for election each year. As of 2011, Burlington County's Freeholders are Freeholder Director Bruce D. Garganio (Florence Township, 2012), Deputy Director Christopher J. Brown (Evesham Township, 2011), Joseph B. Donnelly (Cinnaminson Township, 2013), Mary Ann O'Brien (Medford Township, 2012) and Mary Anne Reinhart (Shamong Township, 2011).[17][18]
---
Demographics
Students in grades Kindergarten through 12 attend the Cinnaminson Township Public Schools. Schools in the district (with 2009-10 enrollment data from the National Center for Education Statistics[19]) are New Albany Elementary School with 511 students in grades K – 2, Eleanor Rush Intermediate School with 536 students in grades 3 – 5, Cinnaminson Middle School with 532 students in grades 6 – 8 andCinnaminson High School with an enrollment of 828 students in grades 9 through 12. The Project Challenge program is a program for gifted students from grades 2 through 8 who attend New Albany Elementary School, Eleanor Rush Intermediate School and Cinnaminson Middle School, where students can learn more while having fun. Project Challenge was conceived by Elaine Mendelow, a teacher in the district, who taught it for over 20 years, now being retired from the program.[20]
Cinnaminson Township is home to public learning institutions and several private schools. The historic Westfield Friends School, which serves students from PreK-8th grade, is a Quaker school founded in 1788.[21] St. Charles Borromeo Parish School serves about 300 students in PreK-8th grade from several area communities, operating as part of the Roman Catholic Diocese of Trenton.
History
Cinnaminson was formed by resolution in 1860 from a section of Chester Township. Part of this resolution reads, "The inhabitants of the township of Chester having become so numerous that it is impracticable for them to meet with convenience and good order in one assembly… the Township shall be divided." The name "Cinnaminson" derives from the Lenape Native American word "Senamensing," which means "sweet water".[23]
Transportation
Roads traveling through the township include Route 73, Route 90, U.S. Route 130, and County Route 543.
The Cinnaminson station on the River Line light rail system, is located on Broad Street, offering southbound service to Camden, New Jersey and the Walter Rand Transportation Center (with transfers available to the PATCO Speedline) and northbound service to the Trenton Rail Station with connections to New Jersey Transit trains to New York City, SEPTA trains to Philadelphia, Pennsylvania, and Amtrak trains.
New Jersey Transit provides bus service to Philadelphia on the 409 and 419 routes.[24]
Community
Since 1900, Cinnaminson has been home to the Riverton Country Club, a country club and golf course designed by Donald Ross.[25]
Cinnaminson is home to the Burlington County Footlighters, a production company founded in 1938 who perform regularly at a playhouse within the township.[26] Additionally, Cinnaminson facilitates an all-ages regional chorus and wind ensemble.
Noted residents
Notable current and former residents of Cinnaminson Township include:
Post Footer automatically generated by Add Post Footer Plugin for wordpress.