Rita's Introduces Red Velvet Cake Cream Ice
Rita's Water Ice debuted its newest flavor, red velvet cake cream ice, on Friday, April 6.
This new rich and creamy treat has all the flavor of red velvet cake. Customers are encouraged to ask for a free sample.
"Our new red velvet cake cream ice tastes exactly like a delicious piece of cake," said Jonathan Fornaci, chief executive officer of Rita's. "It's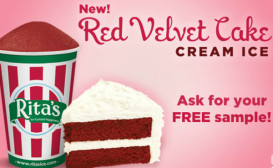 a rich, decadent flavor, sure to delight cake lovers everywhere."
Paige Baldwin, a server at the Rita's on Camden Avenue in Moorestown said the new red velvet cake cream ice has been popular since it was launched.
"Almost all of the people who have ordered it, love it," said Baldwin.
Additionally in April, Rita's will feature "The Great Blendini Event," which offers customers 50 percent off blendinis from 5 p.m. to 7 p.m. beginning Wednesday, April 11, and continues through Sunday, April 29.
Rita's in Cinnaminson is located at 1811 Cinnaminson Ave., Cinnaminson. There is also one at the The Moorestown Mall.
Rita's, headquartered in Trevose, Pa., is the nation's largest Italian ice chain, with more than 550 stores in 22 states.
Post Footer automatically generated by Add Post Footer Plugin for wordpress.