Report: Christie Snoozed During Springsteen Show
Bruce Springsteen's high-energy shows are known to inspire fervor in his audiences.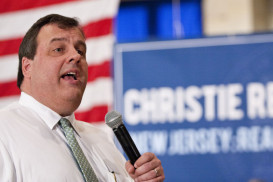 But, apparenty Gov. Christopher J. Christie was running a little low on energy at a recent concert by The Boss at Madison Square Garden in New York City, according to a report on The Huffington Post.
A fan sent in a photo of Christie resting his head in his hand, apparently napping during the show, the New York Post reports.
The governor is a longtime fan of The Boss. Last month Christie attended what he said was his 127th Springsteen concert, at the Wells Fargo Center in Philadelphia.
Christie's name has been tossed around as a potential running mate for Mitt Romney in next year's presidential election. Last year, Christie mulled his own presidential run, but ultimately decided the timing wasn't right.
If Christie chooses to seek a second term as governor, he will be up for reelection in 2013.
Post Footer automatically generated by Add Post Footer Plugin for wordpress.